By Rebecca Gardon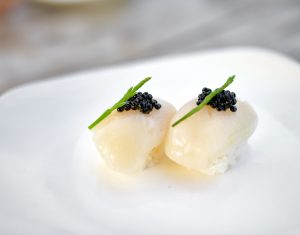 In the seafood world, nothing spells romance more than oysters. Okay, maybe lobster. In any case, did you know that reportedly the infamous womanizer Casanova frequently consumed 50 oysters for breakfast while sitting in a bathtub built for two? Whether he was alone or not at the time is unclear, but we assume he ate the so-called aphrodisiacs in advance of meeting with a lady-friend.
Why not up your game this Valentine's with our Baja Nautilus oysters? These ample beauties are sustainably grown by Ostricola Nautilus, located in the small fishing town of San Quintin in Baja California. Nestled in deep-cupped shells brimming with delicious liquor, they boast a forward brininess and subtle sea grass finish that lingers on the palate. Balance their ocean fresh flavor Baja-style, with a just touch of lime or lemon, and if you're feeling randy, a dash of hot sauce.
Oysters not your style? We happen to think scallops are just as sexy. Not only are they a snap to cook, their delicate flavor, velvety texture, and finger-food size practically beg to be eaten without utensils (if you catch our drift). Our sweet, succulent Atlantic scallops or dry diver bay sushi grade scallops from Baja are equally delectable. The larger Atlantic scallops make for a stunning presentation, especially when pan seared. Because of their petite size, bay scallops cook up quickly and make a great addition to soups, stews and pastas. They are also an excellent choice for raw preparations, particularly ceviche and crudo. Either way, you'll be well on your way to a romantic culinary rendezvous in no time.
Other finger (sea)foods we recommend? Crab claws, wild Mexican shrimp, and uni, of course!