By Rebecca Gardon
Once considered an ocean nuisance, red sea urchins have led to Catalina Offshore Products becoming one of California's premier seafood purveyors and San Diego's only exporter of sea urchins, selling around 95 percent of all urchins harvested locally.
Featured on the Travel Channel's Bizarre Foods America with Andrew Zimmern, our gold and premium uni is considered by many to be the best in the world. Our urchins are hand-harvested by local divers who deliver it fresh daily and we process it within 24 hours to ensure the highest quality. As more and more people discover this delicacy the more they want to know. Below are the most frequently asked questions:
LIVE UNI
Q: If I order live urchin will it be alive when I receive it?
A: When we ship live urchin it is indeed alive. Live urchin is cold packed with dry ice and mailed with the last shipments of the day to make sure it will be strong enough to get to its destination. Sometimes the live urchin perishes during transit. However, this in no way means the urchin is bad! We guarantee that it is still completely fresh and perfectly safe to consume.
Q: How do I prepare live sea urchin?
A: Once you get the hang of it, cracking, cleaning and serving sea urchin is quite fun! Below this blog post illustrates the step-by-step process – one where you should be sure to wear protective gloves. For the full video tutorial, click here.
Q: How many roe will I get from a live urchin?
A: Inside every sea urchin is the prize: bright orange to yellow, tongue-shaped roe. On average, each urchin will contain five roe.
100g GOLD AND PREMIUM UNI TRAYS
Q: How many uni roe are in a tray?
A: Depending on the size of the roe, each tray contains between nine and 12 pieces.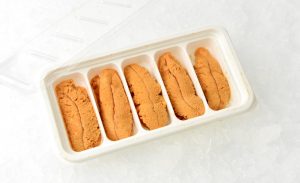 Q: What is the difference between the gold and the premium uni?
A:  California Gold uni is our highest quality uni with a bright yellow/orange color and the firmest texture. Our California Premium uni has a mild yellow color and softer texture than California Gold, but the same great taste and freshness. There is a slight taste difference between the products. We recommend you try both to determine your preference.
Q; How do you pack the uni trays?
A: Each tray is rubber-banded together and placed in a plastic bag. Then they are wrapped in an insulated bag, which protects the uni from freezing or getting wet from dry ice during transit.