By Rebecca Gardon
What's the best thing about October? It's National Seafood Month! Here are four easy ways to celebrate, or should we say shell-ebrate, this most delicious time of year!
Eat more seafood. This one seems obvious but if you're not quite getting the recommended intake of at least two servings of fish per week, National Seafood Month is the perfect excuse to make a positive change to your diet!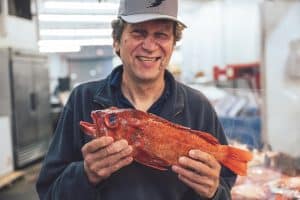 Look to local, regional and U.S. seafood first. Buying fish from closer to home strengthens local economies and contributes to a lower carbon footprint. Plus, U.S. seafood is managed under some of the strictest fishery regulations in the world making it a sustainable choice.
Try a fish that's new to you. Reaching for seafood that's not the most commonly purchased salmon, tuna or shrimp will provide your taste buds delicious new experiences and also help to balance fishing pressure across different species. It could be something fresh, frozen, smoked, or canned!
Share how you enjoy our seafood! Use the #CelebrateSeafood hashtag in your captions and be sure to tag @catalinaoffshoreproducts (if it's our fish!), along with our friends Seafood Nutrition Partnership (@seafood4health). SNP is a nonprofit working to inspire a healthier America through partnerships and outreach to raise awareness about the essential nutritional benefits of eating seafood. We love that they celebrate seafood just like we do – not just in October, but year-round!
For recipes and more inspiration, continue exploring our website catalinaop.com and visit seafoodnutrition.org!By